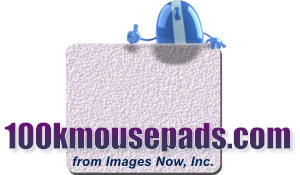 Our company policies are below for:
•
Lead times for production
•
Art preparation & proofing
•
Payment
•
Shipping
Lead times for under 10,000 qty

-counted from the next business day:
Mouse pads, counter mats, coasters: 2 - 2 1/2 weeks
•
Coasters: 2 - 2 1/2 weeks
•
Wrist rests: 2 - 2 1/2 weeks
•
Note that the above are estimates, and that if you have a
specific deadline you must have the order by,
you must
let us know the deadline when you place the order.
•
We can often speed up the lead time
at no extra charge. Just let us know your needs.
Art Preparation, tolerances, and proofing
•
Any professional format is usually fine. It is generally acceptable to submit
.tif or .jpg files at 300dpi, cmyk at the best possible quality level for .jpgs using Photoshop
•
Bleed: 1/8" on all four sides for 'hard top' items, 1/4" for sublimation printed 'soft top' items
•
"Margins from edge for parallel lines or text along a side: 1/8" for hard tops & 3/16" for soft top items
•
Sublimation dye printing is used for printing the fabric items. It is not a medium that reproduces as
accurately as offset paper printing. We provide a .pdf or .jpg proof file for checking the art layout, but
if you require a high level of color accuracy for a corporate logo color, or anything else, a full production
proof is required. They are expensive for sublimation printed items, and offset press produced hard top
items. $225 plus shipping. That is our actual cost and is not marked up at all. Our digitally printed
hard top items, usually under 4,000 qty, cost only $15 for a production proof.
•
Reversed text and graphic lines: on fabric printing, you must allow for the 'dot gain'. The dye spreads out in the
fabric and if the text or lines are too thin, they will be difficult to read, or take on a tint of the surrounding color.
Usually a 14pt. bold text will hold up well to those issues. And 16-18pt non-bold text will perform alright when reversed
as white print in a solid color background.


Payment terms and conditions


•
Credit cards accepted: Visa, MasterCard, American Express)
Also accepted: check, bank wire. New customers are 50% down, balance on delivery.
•
In the event of non-payment, Customer agrees to pay costs of collection of not less than 25% of Customer's account
balance or a reasonable attorney's fee, if greater, if Customer's account is placed for collection with an outside
collection firm or attorney, whether suit be brought or not. Customer agrees to pay Seller interest, including post
judgment interest, at the highest rate allowable by law on all sums not timely paid and hereby submits to the jurisdiction
of the courts of the State of Tennessee, whose laws govern this Agreement.
•
Cancelled Orders
Seller reserves the right to allow or not allow cancellation of the order. Additionally, to cancel any order, customer must
reimburse all production costs to date.
•
You can ship prepaid through us, or use your own shipping account number. We ship through UPS, and for larger
orders we have several freight companies we partner with to get you the best rate to your area.
•
Our liability for the product condition ends once in the possession of the shipper. Upon receipt, please inspect the
goods and make any claims for damage at that time, to ensure you will receive credit. We will supply you and
the freight company with anything we can to help complete a claim process. Images Now accepts no responsibility
or liability for carrier caused damage or delays or any other carrier related problems.

Copyright 2011 by Images Now, Inc. All rights reserved.